Voltage Regulator Circuit
A very simple fix voltage circuit for 12V devices
Voltage regulation means to prevent the voltage from dropping down or rising above a specific value. A 12 volt regulator circuit will provide exactly 12V under load as well as without load. On the other hand, an un-regulated 12V power supply output voltage with drop under while the load will increase and will rise when not under load. For example, an un-regulated 12V power supply can output 14V when not under load and can drop the voltage to 11V when under 1A load and 10V when under 2A load. This rise and drop of voltage in un-regulated power supplies can sometimes burn sensitive electronics equipment.
I, once, went to market to buy a voltage regulated supply but was amazed to see the cost. I decided to build my own power supply and researched a bit on the internet. My required load was 12V and 1A so I ended up designing the following voltage regulator circuit which is very low cost but at the same time it is efficient.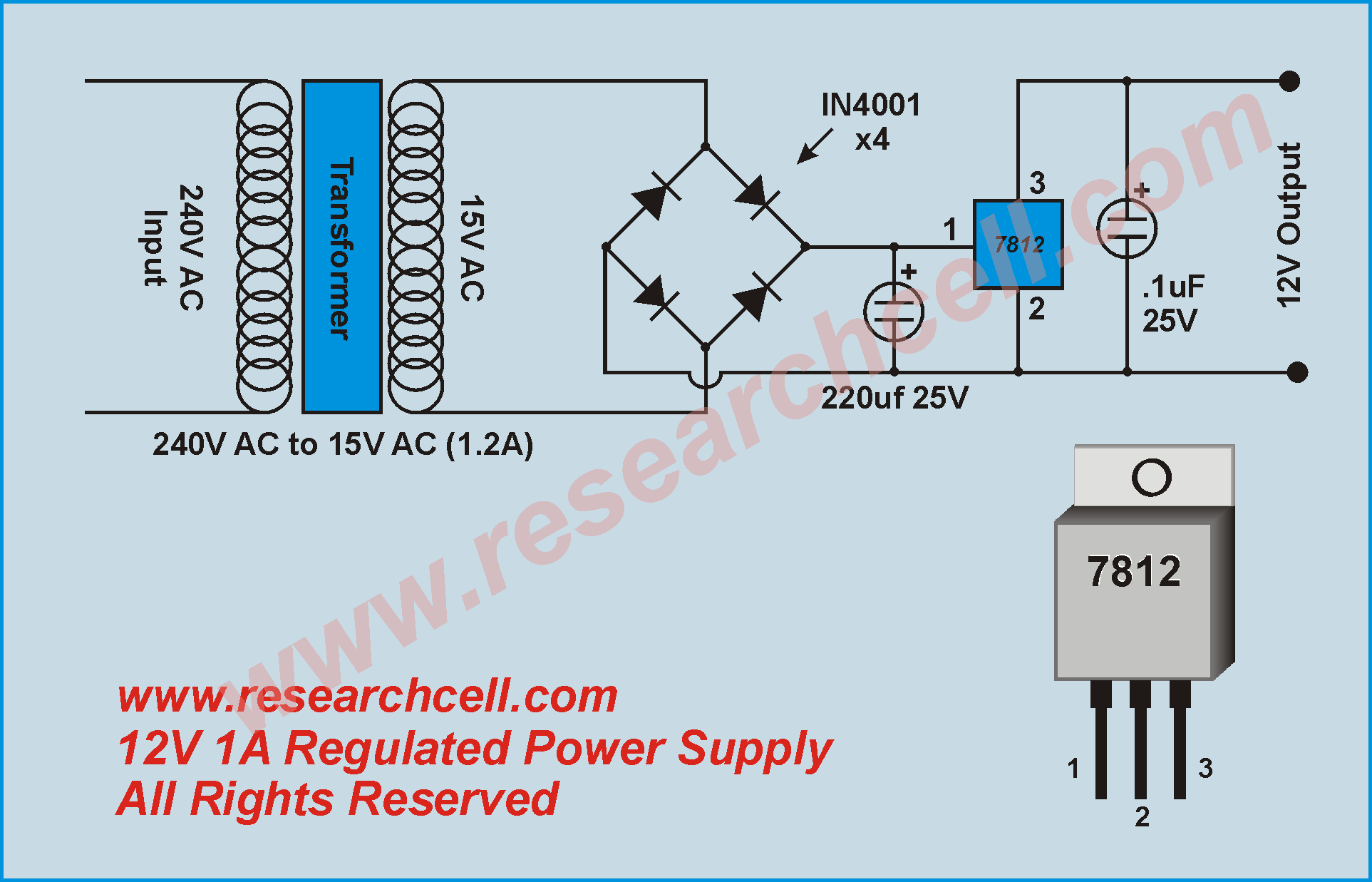 Here goes the parts list.
240V to 15V 1.2A Transformer
4 pieces of IN4001 (You can use a bridge rectifier as well)
220uF 25V Capacitor
.1uF 25V Capacitor
7812 IC (Integrated Circuit)
A heat sink plate for 7812 IC
7812 is a very good voltage regulator integrated circuit (IC). It is cheap but efficient, that is why I selected it for this regulator circuit. 7812 Pin2 connections are also explained in my regulator circuit diagram. You can see that Pin 1 is input, Pin 2 is Ground (which is often –V) and Pin 3 is output. It is very simple to understand 7812. The 220uF 25V capacitor is used as a buffer to cover frequency gap. The second capacitor is used as an extra filter. IN4001 rectifiers are used to convert AC current into DC current. Transformer is used to convert 240V AC into 15V AC. If you have 110V mains then you can use a 110V AC to 15 AC transformer.
I have successfully used this voltage regulator circuit to power up my ADSL modem. In fact, the ADSL modem was restarted every one hour or so with its original power supply but after I replaced it with this voltage regulator circuit, the modem is never restarted by itself. Any electronic device which requires 12V 1A power can be powered by this circuit so feel free to use it. You can post your questions and comments in the comments section bellow.
Posted or Updated On:
Nov 27, 2009
Comments:
23